This would of course go well with a traditional buttery biscuit crust too. Keep it gluten free by pulsing 2 x packs of Foods of Athenry's cookie shots (240g total) to a sand consistency and stirring through 100g melted vegan buttery spread. Mix well and press into a 20cm tin with a removeable base - using a glass to press down well and encourage the biscuit mixture up the sides. Refrigerate for 30 minutes before adding the filling and baking.
The Cacao Crust
Rub the ingredients together until you achieve a bread crumb consistency and add water (1 Tbsp at a time) to bring the pastry dough together into a ball. Refrigerate for 30 mins while you prepare the filling.
Baileys Cheesecake Filling
Add all ingredients to a food processor and blend for 1 minute on high until smooth.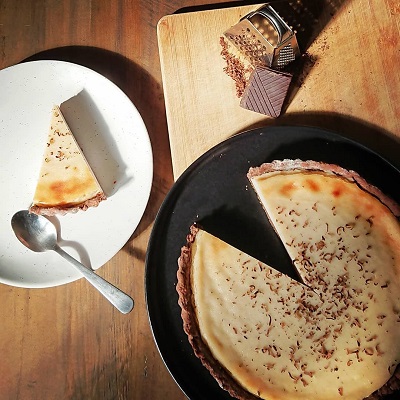 How to Do It bit
- Preheat oven to 165degC (mine's fan assisted, go for 175degC if yours isn't)
- Roll out pastry to 1/2cm thickness/press crust into 20cm pan with a removable base and blind bake using baking beans for 12 minutes.
- When the crust has baked pour in the filling. Smooth the top with a spatula and bake for 45-50 minutes. Aim to remove it just before the top starts to turn golden.
- The filling may still feel jiggly but it will set after cooling. Initially, cool on a wire rack for 1-2 hours until the cheesecake reaches room-temperature. Then, transfer to the fridge and allow to set fully over night (or at least for 6 hours).
- Optional: grate some dark chocolate over the top before serving. Or crumble cookie-shot crumbs over the top!
This is so rich and comforting! Keep in a sealed container for 3-5 days (if there's any left!!).
Enjoy!